Conveyor allows you to easily test web applications from external computers, tablets & phones on your network and over the internet through tunnelling.
Conveyor also fixes the 400 Bad Request error from IIS Express when you try to access using non localhost.
Step 1:
Download the Visual Studio Extension by searching for 'Conveyor' in the Tools->Extensions and Updates dialog.
Step 2:
Conveyor is automatically enabled for web application projects, run (debug) a project and note the Remote URL, that is the URL you will use from your device or other computer.  Please see troubleshooting below if you don't see the Conveyor window.

Step 3:
Add an inbound firewall rule allowing access to the TCP port given in the Remote URL.
Open Windows 'Start' and type WF.msc.
Click 'Inbound Rules' on the left.
Click 'New Rules' on the right.
Choose 'Port' in the new dialog, then 'Next'.
Select TCP, and enter the port from the Remote URL next to 'Specific local ports' (probably 45455), then 'Next'.
Next, and next (you may want to disable 'Public'), give it a name like 'Conveyor: web dev server access enabled'.
Step 4:
Use the Remote URL from your device (phone, tablet or other machine) to directly access your application. Note that you must be running the project in Visual Studio for the Remote URL and Internet URL to work.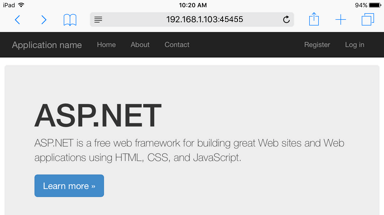 TLS/SSL
The tunnel service has it's own properly trusted certificate, so no setup is necessary. The Remote URL runs with a self-signed certificate. To properly access the Remote URL from other machines/devices you just need to install Conveyor's CA certificate on your device, please click the certificate icon in the URL grid for instructions.
For debugging with public IP, you will have to go with Premium account, and that will cost you one time $30.
Ref: https://marketplace.visualstudio.com/items?itemName=vs-publisher-1448185.ConveyorbyKeyoti